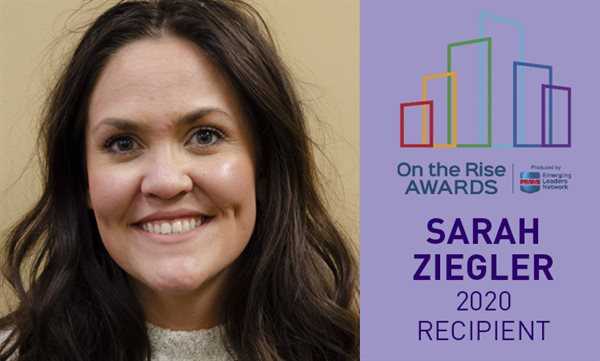 Each year, PMMI's Emerging Leaders Network sponsors the On the Rise Awards which honor young professionals in our industry who exhibit outstanding leadership capabilities. Sarah Ziegler from our Key Accounts team has been chosen as one of the recipients for 2020 out of a pool of nearly 100 nominations.
Jerry Ruschau nominated Sarah thanks to her "tenacity, eagerness to learn and ability to lead others."
Sarah came to QC Conveyors after a career in early childhood education. Despite her lack of experience in industrial machinery, Jerry recognized that she could make an immediate impact on his team.
Sarah embraced her role as a liaison with our key accounts and quickly exceeded expectations. She has met aggressive metrics that directly contribute to our OEM division's sales growth, while reducing warranty claims to less than 1%.
She saw a need for more detailed documentation for the custom products created by our OEM division and took the initiative to create mechanically accurate support documents. To do so, she has lead the project with not only our customers, but her peers and multiple department leaders at QC Conveyors.
Sarah will be recognized during the 2020 PMMI Annual Meeting, which will be a completely virtual event this year. She has also been invited to the 2021 Annual Meeting, where they will recognize both the 2020 and 2021 winners in person. She will also be recognized in the Winter issue of OEM Magazine.
This is the third year for the On the Rise Awards and QC Conveyors' second recipient. Jenelle Gaskins was recognized in 2018.
Please join us in congratulating Sarah as a winner of PMMI's On the Rise Awards!