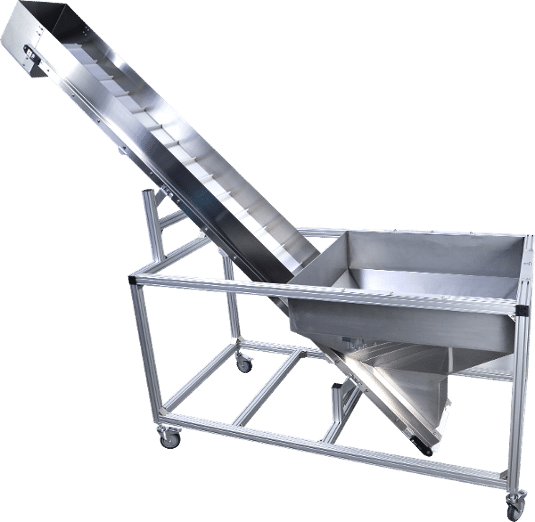 Recently a customer asked our Custom Engineering team to design a hopper for an AS40 Conveyor. The application was to transport small, lightweight parts that would be accumulated in the hopper and then moved up an incline for discharge. In addition, this application required the design of custom side rails, a custom discharge chute and a custom aluminum structure to support it all. This unit was shipped fully assembled in special crating for turn key delivery.
This AS40 Conveyor feeds an automated weighing and bagging system. The production machine discharges below the height of the bagging machine's infeed, so an elevator conveyor was necessary to move the product from discharge height up to the bagging machine's infeed. The operation was complicated by the fact that the production machine discharged over a wide area, so a hopper was needed to collect the product and funnel it to the conveyor.
The hopper features a pivoting gate at the bottom that rides on the conveyor belt and is lifted as each cleat passes underneath. The gate prevents product dropping from the bottom of the hopper.
Cleats help to move the product up the incline, while a set of taller-than-normal siderails contain the product on the belt. The siderails sit very close to the cleats to ensure product doesn't roll back down the edges of the conveyor.
A discharge chute at the top serves to contain the product and guide it into the bagging machine's infeed. The entire structure sits on casters so it can be adjusted or moved to different machines quickly and easily.
Watch this video to see the whole system in action: