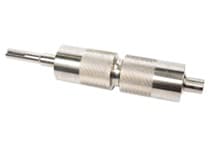 Both the drive and tail pulleys of all QC Conveyors' belt conveyors are crowned, meaning they are a slightly larger diameter in the middle than at the ends. This takes advantage of the belt's natural tendency to track toward the longest part of the conveyor by ensuring the center of the conveyor is longest, making it the most reliable method of tracking a conveyor.
Each belt exhibits slightly different tracking characteristics due to the nature of the finger splice. Some belts may tend to run to the left while others tend to run to the right. As a belt moves to one side of a crowned pulley, the contact forces on that side of the pulley increase while the forces on the opposite side decrease. This forces the belt back toward the center of the pulley.
The alternative method — tracking via a lateral guide commonly called a "v-guide" — is not recommended by belt manufacturers. Habasit's Fabric Conveyor Belts Engineering Guide (PDF link) states "Because of the relatively high production costs and their limited effectiveness, guiding profiles are not recommended as a general belt tracking measure."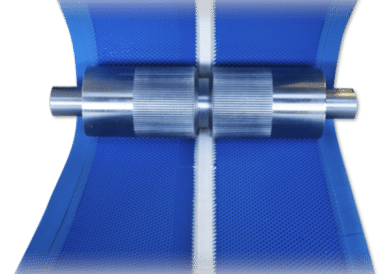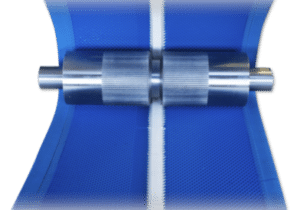 In conveyors tracked solely by v-guide, even a slight misalignment can cause the urethane guide material to rub against the guide channel in the frame and/or pulleys which causes wear of both the guide material itself and the attachment point on the carcass of the belt. In some high speed applications, v-guided belts may jump out of the guide track and run to the edges of the conveyor. V-guides add cost both to the initial belt purchase and to any replacement belts.
V-guides are recommended only in applications where lateral forces are placed on the belt due to products entering or exiting the belt from the sides of the conveyor. QC Conveyors' Automation Series Conveyors can be equipped with v-guides in these applications. HydroClean Series Conveyors use v-guides in addition to crowned pulleys in all applications due to the varying frictional forces that can be imparted by a partially wet frame.